Horse racing is a centuries-old sport that is beloved by millions of people around the world. From the excitement of the Kentucky Derby to the thrill of the Preakness Stakes, horse racing is an exciting and entertaining spectacle that has captivated audiences for generations.
But what is it exactly that makes horse racing so exciting? In this article, we'll explore everything that you need to know about horse racing, from its history and regulations to the different types of races, betting on horse races, and more.
Throughout history, horse racing has been a popular form of entertainment. Ancient civilizations such as the Greeks and Romans held horse races as part of their celebration of festivals and holidays. In the 16th century, horse racing in Great Britain grew in popularity. During this period, horses were bred specifically for their speed and agility, leading to the creation of a number of racetracks across the country.
Today, horse racing is regulated by a number of organizations. The most prominent of these is the Jockey Club, which sets rules for the sport and oversees its safety. In the United States, the National Thoroughbred Racing Association (NTRA) is responsible for overseeing the sport.
There are a variety of different types of horse races. Flat racing is the most common type, in which horses race on flat tracks with no obstacles. Other types of racing include steeplechase, in which horses must jump over obstacles, and harness racing, in which horses pull a two-wheeled cart.
Horse racing can be both a spectator sport and a way to make money. Many people choose to bet on horse races, either in person at the track or online. When betting on a horse race, you are essentially wagering money on the outcome of the race.
In addition to the thrill of the races, many people enjoy attending horse racing events for their social aspects. There are a number of events and activities associated with horse racing, from after-parties to tailgating. Of course, the best way to get the most out of your horse racing experience is to attend one of the major events such as the Kentucky Derby or the Preakness Stakes.
This article will provide essential tips for new horse racing fans so that they can learn the basics and enjoy the sport.
Learn the Different Types of Horse Races
Horse racing comes in many different forms, each with its own set of rules and regulations. Before you start to bet on races, it is important to understand the different types of races and how to bet on them. Some of the most popular types of horse races include flat racing, hurdle racing, steeplechase, harness racing, and quarter horse racing.
Understand the Betting System
Betting on horse races can be confusing, especially for new fans. Before you start betting, it is important to understand the different types of bets you can make and how the odds work. Some of the most popular bets include win, place, show, exacta, trifecta, and superfecta.
Research the Horses and Jockeys
Before placing any bets, it is important to do some research on the horses and jockeys. Try to find out as much information as you can about the horses and jockeys, including their past performances and records. This will help you make informed decisions about which horses and jockeys you want to bet on.
Watch Races and Analyze Form
In order to become an expert horse racing fan, you need to watch as many races as you can. This will help you learn more about the sport and understand the form of the horses. Additionally, you should also analyze the form of the horses so that you can make informed bets.
Follow the News and Trends
Horse racing news and trends can provide valuable insights into the sport. Following the news and trends can help you stay informed and make better decisions when betting on races.
Learn the Lingo
Horse racing has its own unique language and terminology. To truly understand the sport, it is important to learn the lingo. This includes common terms like "furlong," "stallion," "post time," and "odds."
Set a Budget
Betting on horse races can be fun, but it can also be expensive. Before you start betting, it is important to set a budget and stick to it. This will help you avoid overspending and ensure that you have enough money left to bet on the races.
Find the Right Track
There are many different horse racing tracks around the world. Finding the right track is key to enjoying the sport. Different tracks have different rules and regulations, so it is important to research the track before you start betting.
Join a Racing Club
Joining a racing club can be a great way to meet other horse racing fans and learn more about the sport. Racing clubs often have members-only events, such as racing seminars and social gatherings. This is a great way to network and meet other horse racing enthusiasts.
Conclusion
Horse racing is one of the oldest and most popular sports in the world. As a new fan, it can be overwhelming to learn the basics and understand the rules and regulations. This article has provided essential tips for new horse racing fans so that they can learn the basics and enjoy the sport. With the right knowledge and tips, new fans can become experts in no time.
Above all, horse racing should be fun. Don't get too caught up in the betting and focus on enjoying the sport. Don't be afraid to take risks and experiment with different bets. Horse racing is a great way to spend time with friends and family and have a good time.
👇 Check out the most popular posts: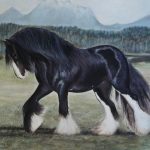 Horse racing has long been a popular sport in Virginia, with many of the state's tracks boasting a long and distinguished history. Whether you're a newcomer to the sport or a seasoned bettor, it's important to know how to bet on horse racing in Virginia.